Congratulations! You and your love are officially on your way to becoming husband and wife! Now, it's time to start shopping for wedding rings. But which types of metal should you pick? Gold for both of you? Rose gold for her and titanium for you? With so many options, it can be overwhelming. Don't worry. We're here to help! Get started with our below guide on precious and alternative metals!
PRECIOUS METALS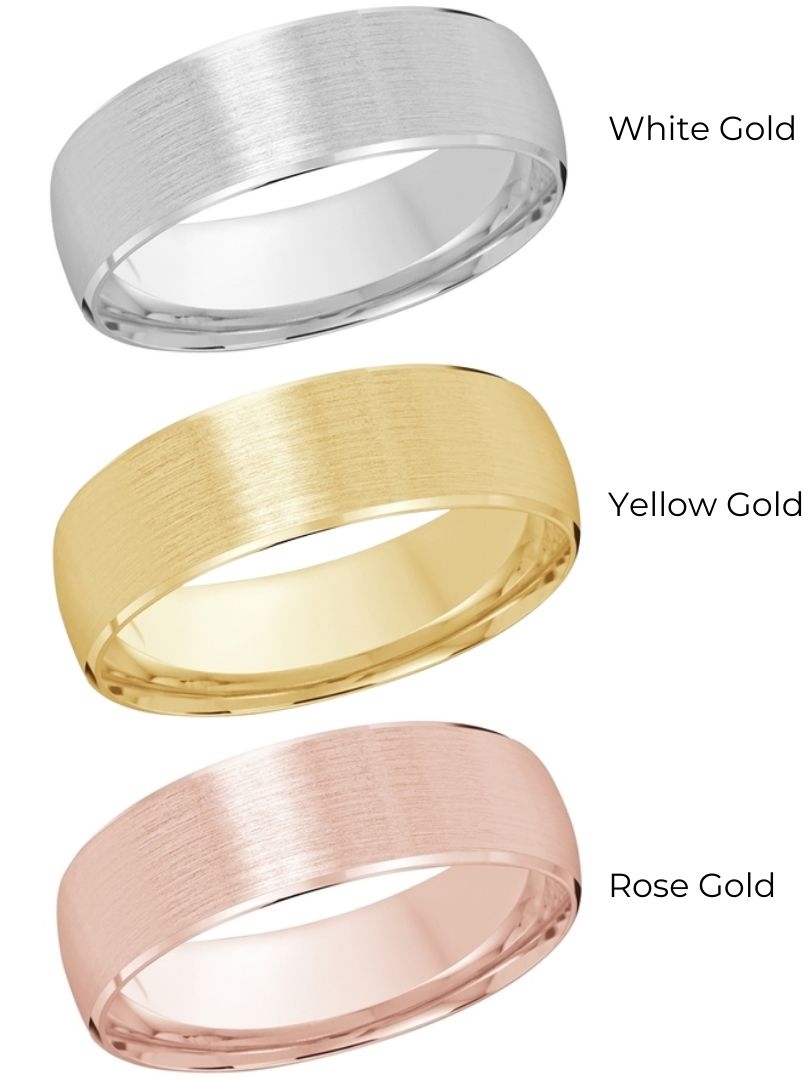 GOLD: This tried and true option has been popular with engagement and wedding rings since ancient Greece and Rome. Depending on your color preferences, you can choose from yellow, white or rose gold. It's important to note that pure gold is soft and can't be used in jewelry on its own. As a result, it's mixed with other metals to increase its durability. For example, yellow gold is blended with copper and zinc to complement its yellow tone, while white gold is mixed with other white metals, like zinc, nickel and palladium.
*Pros: All types of gold are valuable and can be passed down for generations! If you'd like a better fit for your ring, gold can easily be resized. This isn't always the case for other metals.
*Jeweler's Tip: You'll typically see wedding rings with 14-karat (58% pure gold) and 18-karat gold (75% pure gold), as these are durable options for daily wear.
PLATINUM: This precious metal has also been around for thousands of years, and it's even more durable than gold. It boasts a silver-white appearance and looks very similar to white gold. But unlike gold, you'll find nearly pure platinum (somewhere between 90% and 98%) in wedding rings. Small amounts of other metals, such as copper and palladium, are mixed in for added durability.
*Pros: Since platinum isn't mixed with nickel, which tends to cause allergic skin reactions, platinum is a safer choice for those with sensitive skin. Platinum is also heavier than gold and less likely to corrode over time.
*Jeweler's Tip: Since rings feature a high amount of pure platinum, they tend to be more expensive and valuable than white gold. You might often see "950 platinum," which is the most popular platinum combination for wedding rings. That means a piece is made of 95% platinum and 5% various metals.
PALLADIUM: This metal may not date back to ancient times, but it has become a popular choice for wedding bands in recent years. In fact, Fortune reported that it surpassed the value of gold in 2019. What's the appeal? Palladium is another silver-white metal that's part of the platinum family, meaning it's extremely durable and resistant to corrosion. It's actually slightly darker than platinum, though the difference is difficult to see with the naked eye. Palladium is also rarer than platinum and gold, making it an even more desirable option.
*Pros: Palladium is hypoallergenic and weighs significantly less than platinum. If you prefer a comfortable and lightweight piece that's great for daily wear, consider palladium for your forever ring!
*Jeweler's Tip: Due to palladium's characteristics and availability, you may have a harder time with resizing a ring. Be sure to have accurate ring sizes before making a purchase!
ALTERNATIVE METALS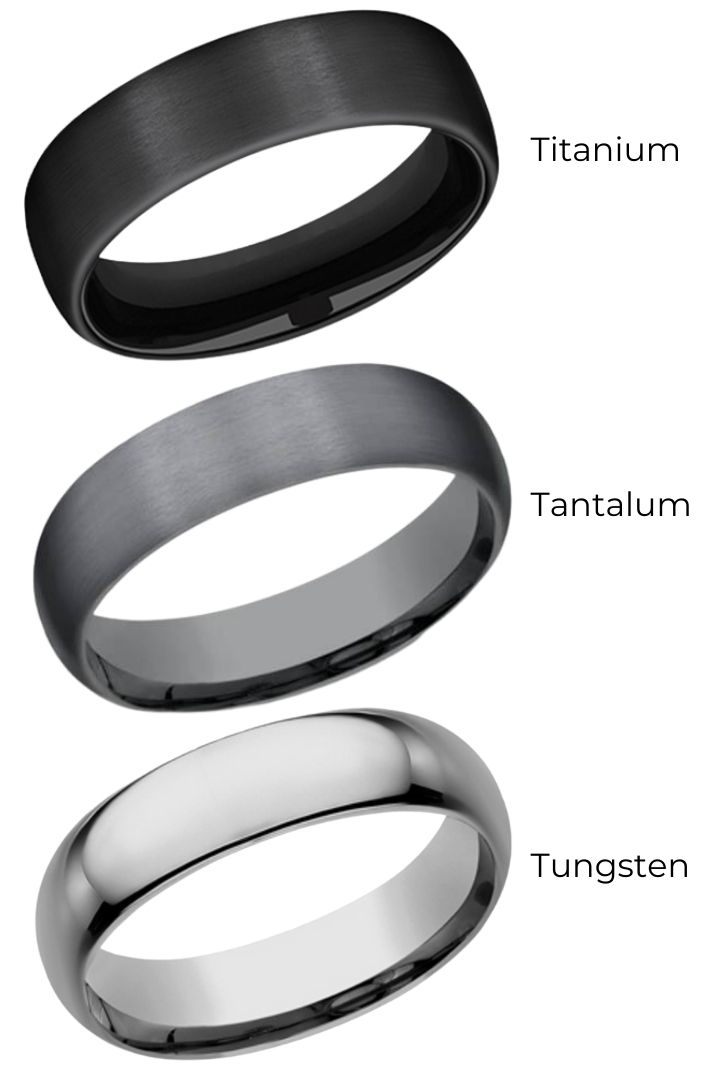 TITANIUM: Boasting a gray/silver tone, this lightweight metal can have a sleek or dull appearance. Polished titanium looks a few shades darker than platinum, while brushed titanium creates a dull effect and looks even darker. But its most defining qualities are its affordability and durability. Titanium is more affordable and stronger than all of the precious white metals. To give you an idea, the highest grade of titanium will only have surface-level scratches, which can easily be removed by a jeweler. Scratches on gold and platinum rings, on the other hand, are significantly deeper.
*Pros: Given its durability, titanium can handle a lot of stress, making it a smart choice for everyday wear. Titanium rings are typically hypoallergenic and expected to last a lifetime.
*Jeweler's Tip: If you like titanium's characteristics, you can also find other titanium jewelry, from necklaces to earrings. But when it comes to rings, titanium can't be resized. If you or your partner has a unique ring size, we recommend choosing a more malleable metal.
TUNGSTEN: This metal has become an extremely popular choice for men's wedding bands. With gray and silver hues, tungsten is heavier and about four times tougher than titanium, making this another great choice for active lifestyles. In its natural form, tungsten can't be used in jewelry and therefore must be mixed with other materials, such as carbon, nickel and cobalt, to make it more durable and malleable.
*Pros: According to jewelry experts, at least 80% of pure tungsten is incorporated into the highest quality rings to make them strong, tarnish-resistant and shiny for a lifetime.
*Jeweler's Tip: If you're looking for a more unique look, tungsten is also available in several other colors, including black, white and rose.
TANTALUM: This stylish and trendy metal has also become increasingly popular for men's wedding bands, particularly during the past decade. It's durable, resistant to most scratches and corrosion and perfect for daily wear. Similar to titanium, you can find tantalum rings with a polished or matte (aka dull) finish. But since tantalum is considered scarce and valuable, you'll pay a bit more for these pieces.
*Pros: Tantalum is not only hypoallergenic, but it's also shatterproof! A definite perk for those with active lifestyles!
*Jeweler's Tip: Unlike other alternative metals, tantalum is malleable, which means rings can be resized. However, it might be difficult to find a jeweler who works with tantalum. We still recommend knowing your ring size in advance!
DAMASCUS STEEL: This type of metal was originally used for swords and blades in ancient times, and it has now gained popularity in the jewelry industry. Damascus steel is created by layering different silver/gray shades of steel and stainless steel and heating them together in an oxygen-free environment. Once this is done, the metal is twisted, shaped and carved to form intricate, one-of-a-kind ring patterns, often resembling wood grain and the movement of water.
*Pros: Good quality Damascus steel is known for being resistant to rust and scratches, relatively affordable and durable. It's roughly twice as hard as titanium and cobalt, so it's ideal for daily wear.
*Jeweler's Tip: If you like these beautiful designs, Damascus steel is also used to craft unique, extraordinary engagement rings. Since these rings can be customized, you might consider a special anniversary ring when the time comes. Start planning and designing from now!
COBALT: This bright, white metal is often considered a budget-friendly alternative to the precious white metals: white gold, platinum and palladium. In its natural form, cobalt can't be used in jewelry and therefore needs to be mixed with other metals, such as tungsten, iron and chromium, for additional strength and wearability. Cobalt is more durable than gold and platinum. As a result, it's less likely to scratch and chip.
*Pros: Most cobalt rings are hypoallergenic, and, given their durability, they're a great choice for active lifestyles!
*Jeweler's Tip: Over time, white gold might require replating to maintain its appearance. However, cobalt is resistant to tarnishing and corrosion. Therefore, its luster is expected to last for a much longer time.
Have a question? We can help!
Gage Diamonds is Chicago's premier jewelry showroom and online retailer of engagement rings, wedding bands, and fine jewelry. We offer a stunning selection of precious and alternative metals for wedding bands, from 14-karat gold to titanium and cobalt.
We're committed to helping you find the ring of your dreams. For inspiration, browse our website or set up an appointment with a member of our trusted staff at our in-person showroom.
We offer no-credit-needed financing – apply and get your approval within 24 hours!
Pay over time, because love shouldn't wait.