The time has come. You chose the perfect engagement ring for your significant other. Now, you need to figure out how to pay for it. You might be hesitant to finance the ring due to sneaky interest rates and the hassle of opening another credit card. But there are several options and benefits to financing an engagement ring.
Our financing partner, LendFirm, works with select merchants and offers interest rates as low as 4.95% for 12 or 24 months on all of our jewelry, from engagement rings to stunning pendants. Learn more about the perks of financing your engagement ring and other fine jewelry the Gage Diamonds way.
Buy Now, Pay Later
Don't wait another day to propose to your special someone or give them that long overdue anniversary gift! When you finance jewelry, you pay over time. That means you can bring your piece home the same day you buy it!
Quick & Easy Approvals
At Gage Diamonds, we know you're more than just your credit score. If your credit history is nothing to brag about, that's okay. To apply for financing assistance with LendFirm, we simply ask for a valid driver's license or state ID; proof of a direct deposit from your primary employer/benefit provider; and record of a checking account in good standing. We typically approve applications in 24 hours, so you can start shopping. Plus, it's free to apply with no upfront costs. Does it get any better than that?
Customizable Payment Plans
We directly link to your checking account and align your jewelry payment plan with your employer's pay schedule. If you get paid on the first and 15th every month, your jewelry payments will be due on those days too. That way, you never have to worry about missing a payment due to insufficient funds.
Keep Your Savings Intact
Cash might be the easiest way to pay for an engagement ring, but we understand if you don't want to give up roughly $5,500 of your hard-earned cash. Financing allows you to reserve your savings for emergencies or other wedding-related expenses, such as that Hawaiian honeymoon you've always dreamed about!
Protect Your Credit
If you don't have any credit history and open a credit card to finance an engagement ring, you could negatively impact your credit score if you don't pay off the ring in a timely manner. With the Gage Diamonds financing approach, your credit score remains untouched.
Multiple Loans Accepted
By financing with Gage Diamonds and LendFirm, you can take out more than one loan to help pay for your ring/piece of choice. But please note that your payment history will affect the approval process and the amount of credit that's ultimately offered.
Interest Refunds
If, for any reason, you're unhappy with your Gage Diamonds piece and choose to return it, you'll receive a refund on your purchase plus a full refund of paid interest.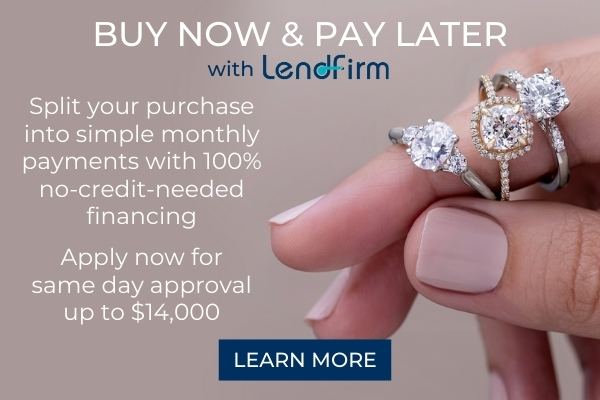 Have a question? We can help!
Gage Diamonds is Chicago's premier jewelry showroom and online retailer of engagement rings, wedding bands, and fine jewelry. We offer a selection of rings featuring dazzling, handpicked diamonds, moissanites and other gemstones.
We're committed to helping you find the ring of your dreams. For inspiration, browse our website or set up an appointment with a member of our trusted staff at our in-person showroom.
We offer no-credit-needed financing – apply and get your approval within 24 hours!
Pay over time, because love shouldn't wait.