You've found the perfect partner. Now, it's time to find the perfect engagement ring. From multiple gemstones to criss cross bands, the possibilities are endless. We're here to help you understand the basics of engagement ring styles so you can choose a brilliant ring that fits your partner's personality, lifestyle and sense of fashion.
Solitaire: Also known as the "prong" setting, the solitaire setting is the most classic engagement ring style and complements the most diamond shapes. Three to six prongs/claws hold a single diamond or gemstone in place, allowing for maximum light exposure and sparkle. It's stunningly simple! Solitaire rings are easy to maintain, less expensive than other types of engagement rings and will never go out of style.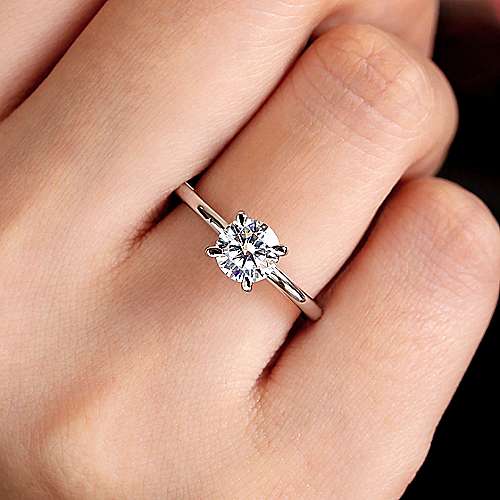 Straight: A straight setting is essentially a solitaire ring with small accents around the center stone. The added side stones enhance the ring's sparkle and draw your eye to the center stone. This ring can take on a modern or vintage look, depending on your partner's preference!
*Pro Tip: If your partner has a more active lifestyle, it's best to choose a low-set stone for your solitaire or straight ring to prevent scratching.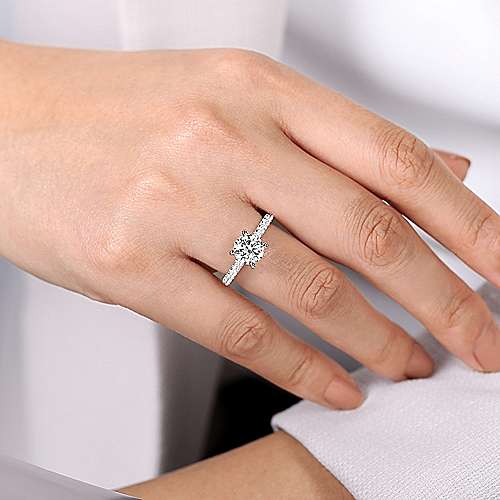 Halo: The halo setting is another popular style that usually features a larger center stone surrounded by a ring of smaller diamonds. This design complements many diamond shapes and makes a smaller center diamond or gemstone appear larger. And who doesn't love extra sparkle? Halo rings often have a vintage appearance and can be customized for a more colorful or geometric look.
*Pro Tip: Halo rings can be designed with multiple circles of diamonds, but too much glimmer could make the ring feel clunky.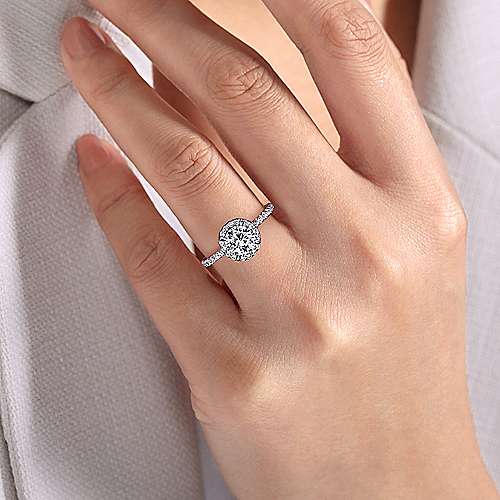 Three-Stone: If you believe in love that lasts forever, this ring style will tug at your heartstrings. As the name suggests, the setting highlights three stones: a larger, center diamond/gemstone and smaller stones on both sides. Each stone represents the past, present and future — a symbol of the journey that you and your partner are about to take. Three-stone rings are also perfect for anniversaries!
Criss Cross: The criss cross style offers a unique and delicate look, as the ring band splits and intertwines, drawing attention to the center stone. The twisted sides represent two lives becoming one and the strong bond that you and your partner are creating. It's true. Love really is all you need!
*Pro Tip: Criss cross rings pair well with curved wedding bands and ring enhancers.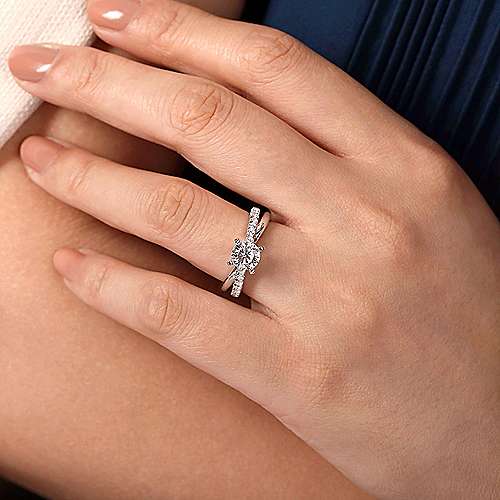 Split Shank: Similar to the criss cross setting, the band on a split shank ring also separates into two pieces to perfectly hug the center stone — creating symmetry, character and sophistication. With this secure design, split shanks can hold just about any diamond shape and can be designed with various elements. For example, some split shank settings incorporate a "halo" (circle of smaller diamonds around the center stone), and the ring's increased surface area is enticing for side stones and extra sparkle.
*Pro Tip: Due to their sophisticated design, split shank rings should be cleaned more often than simpler engagement ring settings.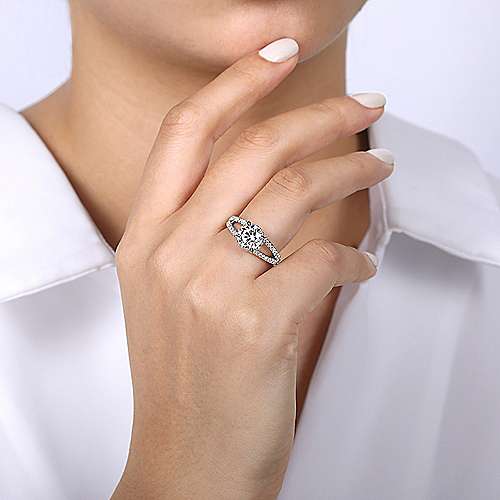 Have a question? We can help!
Gage Diamonds is Chicago's premier jewelry showroom and online retailer of engagement rings, wedding bands, and fine jewelry. We offer a selection of dazzling handpicked diamonds and a variety of engagement ring settings, including solitaire/straight, halo, three-stone, criss cross and split shank.
We're committed to helping you find the ring of your dreams. For further inspiration, browse our website or set up an appointment with a member of our trusted staff at our in-person showroom.
Pay over time, because love shouldn't wait.