Do you love the glitz and glamour of a beautiful diamond ring, but are you self-conscious about your shorter, wider fingers? Don't worry! We're here to help you choose the perfect ring style for fingers of all shapes and sizes.
Check out these tips that will help your fingers look longer and slimmer.
First, take notice of the size of your hand as well as the length and width of your finger. As you start ring shopping, you'll want to pay attention to the width and structure of the ring along with the shape and size of the main gemstone.
Short Fingers
If you have shorter fingers, we recommend choosing a thinner band to showcase more of your finger. You can pair this with any of the following stone shapes: oval, pear, marquise or emerald. Learn more about each one.
Oval - This elongated shape creates the appearance of a larger diamond and longer finger. For a classic oval cut, the length-to-width ratio is 1.35-1.50. A slightly thinner cut would look best with side stones surrounding the main diamond.
Pear - This contemporary, teardrop shape elongates your finger and is perfect for the "unique" bride!
Marquise - With pointed corners and large surface area, a marquise-cut diamond often looks bigger than its actual size. It also sparkles more!
Emerald - This rectangular shape features step cuts, creating a hall-of-mirrors effect. The length-to-width ratio on most emerald-cut diamonds ranges between 1.30 and 1.50. A higher ratio is recommended for a more rectangular shape and the appearance of a longer finger.
*Pro Tip: For small hands, you should keep the proportion of the entire ring small. You can't go wrong with a small round, princess or heart-shaped stone.
Wide Fingers
If you have wider fingers, don't think you're at a disadvantage. You can actually make bolder statements with your jewelry. The key is choosing a style that won't show too much skin on each side of the ring.
We recommend finding the right balance with a slightly thicker ring band. A very thin band could look lost on your finger, while a very thick band will likely accent the width of your finger. We also advise against square-cut gemstones, as these could also emphasize finger width. Instead, check out the following styles, which are sure to flatter fuller fingers.
East to West (horizontal) Orientation - In this type of ring, the gemstone is stretched across the finger, just as the name suggests. It proves to be a good balance between your finger's length and width.
Double Halo Rings - A double halo usually features a larger center stone surrounded by two rings of smaller diamonds. This style is extremely versatile and can easily make a smaller center diamond or gemstone appear larger.
Split Shank Rings - The band on a split shank ring separates into two pieces to perfectly hug the center stone. This style gives the illusion of a wide setting but lacks the bulkiness.
Geometric Rings - Attention-grabbing geometric and asymmetrical styles draw your eyes to the ring vs. your finger size. It's that simple!
*Pro Tip: If you love a traditional, classic style, the round diamond cut suits all finger sizes and shapes!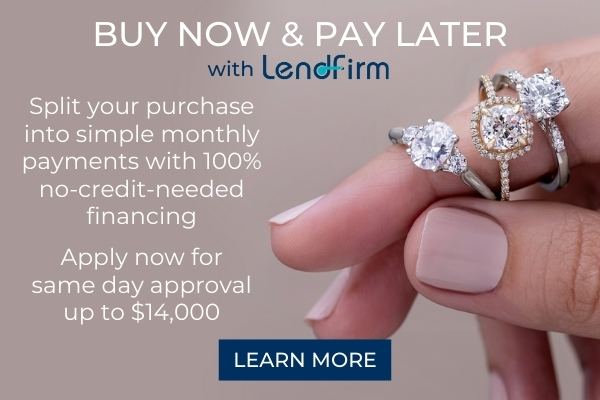 Have a question? We can help!
Gage Diamonds is Chicago's premier jewelry showroom and online retailer of engagement rings, wedding bands, and fine jewelry. We offer a selection of dazzling handpicked diamonds in a variety of shapes, including oval, pear, marquise, emerald and princess.
We're committed to helping you find the ring of your dreams. Shop our selection of engagement rings today, or contact us to set up an appointment with a member of our trusted staff at our in-person showroom.
We offer no-credit-needed financing – feel free to apply and get your approval within 24 hours!
Pay over time, because love shouldn't wait.