You're ready to settle down with your true love and give them the most beautiful ring you can find. But something keeps holding you back: your credit history. You have been late with your bills from time to time and got pretty carried away with your credit card balance. As a result, your credit score has taken a hit. Now, you might be wondering, "What credit score do I need to finance an engagement ring?" We're here to help you learn more!
First, let's give you a quick rundown on what all of this means. According to personal finance company Credit Karma, your credit score is a three-digit number that typically ranges from 300 to 850, and it indicates how well you have used and re-paid credit in the past. It's like your high school GPA but for personal finances. While different industries use slightly different ranges, the most important thing to remember is lenders use your credit score to determine whether they should give you a loan and what sort of interest rate they should set. Hint: If you have good credit, you're likely to receive a loan with a lower interest rate.
So, what exactly is "good" credit? The Fair Isaac Corporation (FICO), one of the main credit-rating institutions in the U.S., established the following standard scoring model that major credit bureaus now use.
Poor credit: 579 and lower
Fair credit: 580 – 669
Good credit: 670 – 739
Very good credit: 740 – 799
Exceptional credit: 800+
In late 2019, FICO reported that 706 was the national average FICO score. But just a year earlier, FICO also reported that one in 10 people scored lower than 550.
If you're looking to finance your engagement ring, you have several options. For example, you could open a credit card that advertises 0% or low interest for a period of time. But keep in mind that you typically need a FICO score of 690 or higher to qualify for such an offer. Plus, these cards often come with sneaky hidden terms, and you should be aware.
Another option: You could apply for a personal loan, where you receive a lump sum of money and repay a designated amount each month. Once again, you typically need a good credit score to be approved. We have seen various lenders accept credit scores as high as 720 and as low as 580. Remember, though, you may have to pay a higher interest rate if you're approved with a lower credit score.
But what if we told you that there's a better way to finance your engagement ring? And what if your credit score didn't matter? That's how it works at Gage Diamonds. When you shop with us, we look beyond credit score to determine loan eligibility and offer financing to shoppers with poor or even no credit.
Our financing partner, LendFirm, is an online lender that works with exclusive merchants, like us. LendFirm offers interest rates as low as 4.95% for 12 or 24 months, which lets us make engagement rings, fine jewelry and designer watches affordable for everyone.
Want to get started? Our application process is easy and straightforward too. Simply provide us with a valid driver's license or state ID; proof of a three-month-old checking account that's in good standing and contains sufficient funds; and record of a direct deposit from your primary employer or benefit provider.
We usually approve applications in 24 hours and even directly link to your checking account. That way, your jewelry payment plan can be aligned with your employer's pay schedule. If you get paid on the first and 15th every month, we'll schedule your ring payments on those days too. You'll never have to worry about missing a payment, and your poor credit score will soon be a thing of the past.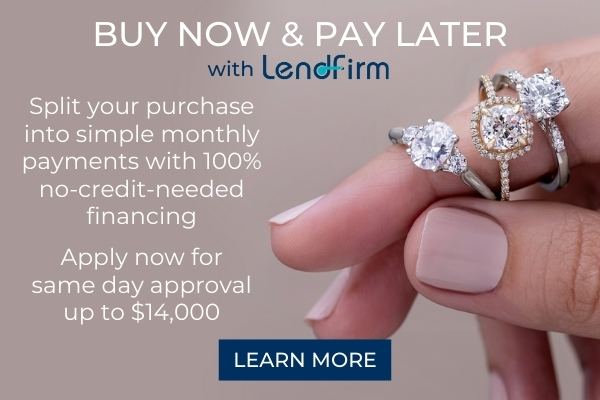 Have a question? We can help!
Gage Diamonds is Chicago's premier jewelry showroom and online retailer of engagement rings, wedding bands, and fine jewelry. We offer a selection of rings featuring dazzling, handpicked diamonds, moissanites and other gemstones.
We're committed to helping you find the ring of your dreams. For inspiration, browse our website or set up an appointment with a member of our trusted staff at our in-person showroom.
We offer no-credit-needed financing – apply and get your approval within 24 hours!
Pay over time, because love shouldn't wait.