Now that summer is winding down, you're ready to start some serious research…on engagement rings for the love of your life! Ring shopping is a big task and shouldn't be taken lightly. So, be wary of engagement ring myths out there!
But don't worry too much. Gage Diamonds is your trusted jewelry source, and we're here to debunk some of these common beliefs!
FACT OR MYTH: You should spend between one and three months of your salary on an engagement ring.
MYTH: Let's set the record straight right away. You DON'T have to follow this tradition. This myth started circulating way back in the 1930s! During the Great Depression, De Beers, a corporation specializing in diamond retail and manufacturing, saw a drop in business and created this "rule" as an advertising tactic to boost sales. But the truth is you can spend whatever you want on an engagement ring! Determine what works with your budget and set an ideal price. You might even want to shop with your partner and find options that make you both happy.
FACT OR MYTH: You must wear your engagement and wedding rings on the ring finger of your left hand.
MYTH: In the U.S., it almost seems wrong to wear your engagement and wedding rings anywhere else. But you actually CAN wear them on the finger of your choice, whether it's your left or right hand! How did this custom start? The ancient Romans reportedly believed this was the only finger with a vein that connected directly to your heart. They called it "Vena Amoris" (aka "vein of love"), and partners could therefore feel truly linked through their rings. But over time, anatomy has taught us that the romantic vein doesn't exist. ALL of our fingers have veins, and they all work the same way.
FACT OR MYTH: You need to find a gigantic and completely flawless diamond to win your partner's love.
MYTH: Size actually doesn't affect a diamond's sparkle. Instead, this is primarily a result of the stone's cut, the most important characteristic of a diamond. "Cut" indicates how well a diamond's facets (aka flat, polished surfaces) interact with light. So, it's definitely possible to find large gems that are duller than smaller ones. And while flawless diamonds are nice, they're pretty rare. Some imperfections aren't even visible to the naked eye, so it isn't necessary to buy a completely flawless diamond. In fact, salt and pepper diamonds have become a recent phenomenon!
FACT OR MYTH: Engagement rings are only designed for women.
MYTH: We have seen PLENTY of women flash their fabulous sparklers, especially the rich and famous. BUT it's perfectly acceptable for men to wear engagement rings too! A 2014 survey conducted by The Knot's parent company, XO Group Inc., found that 5% of men were already sporting engagement rings. That might seem like a small percentage, but another wedding source reported that 56% more men have been seeking male engagement rings since 2007. And this trend is expected to continue.
FACT OR MYTH: You should only choose colorless, round cut diamonds for your engagement ring.
MYTH: First of all, you don't even need to settle on diamonds! You can decorate your engagement band with other gemstones, like rubies, sapphires or emeralds. But if your heart is set on diamonds, you can jazz up your ring with a fancy color diamond. These stones are available in a variety of hues, from pink and yellow to purple and green. In terms of shape, round cut gems are most popular among couples. However, you can always break from tradition and opt for an oval, pear or princess-cut stone. Fun fact: Certain shapes can actually make your finger look longer and slimmer!
FACT OR MYTH: If you want an authentic diamond, you should only choose a natural stone.
MYTH: Not so fast! Lab grown diamonds are just as authentic as natural gems. Even though they're created in laboratories, they're made of carbon and possess the same qualities as their natural counterparts, including look, durability and sparkle. In fact, only trained gemologists can tell them apart with special equipment!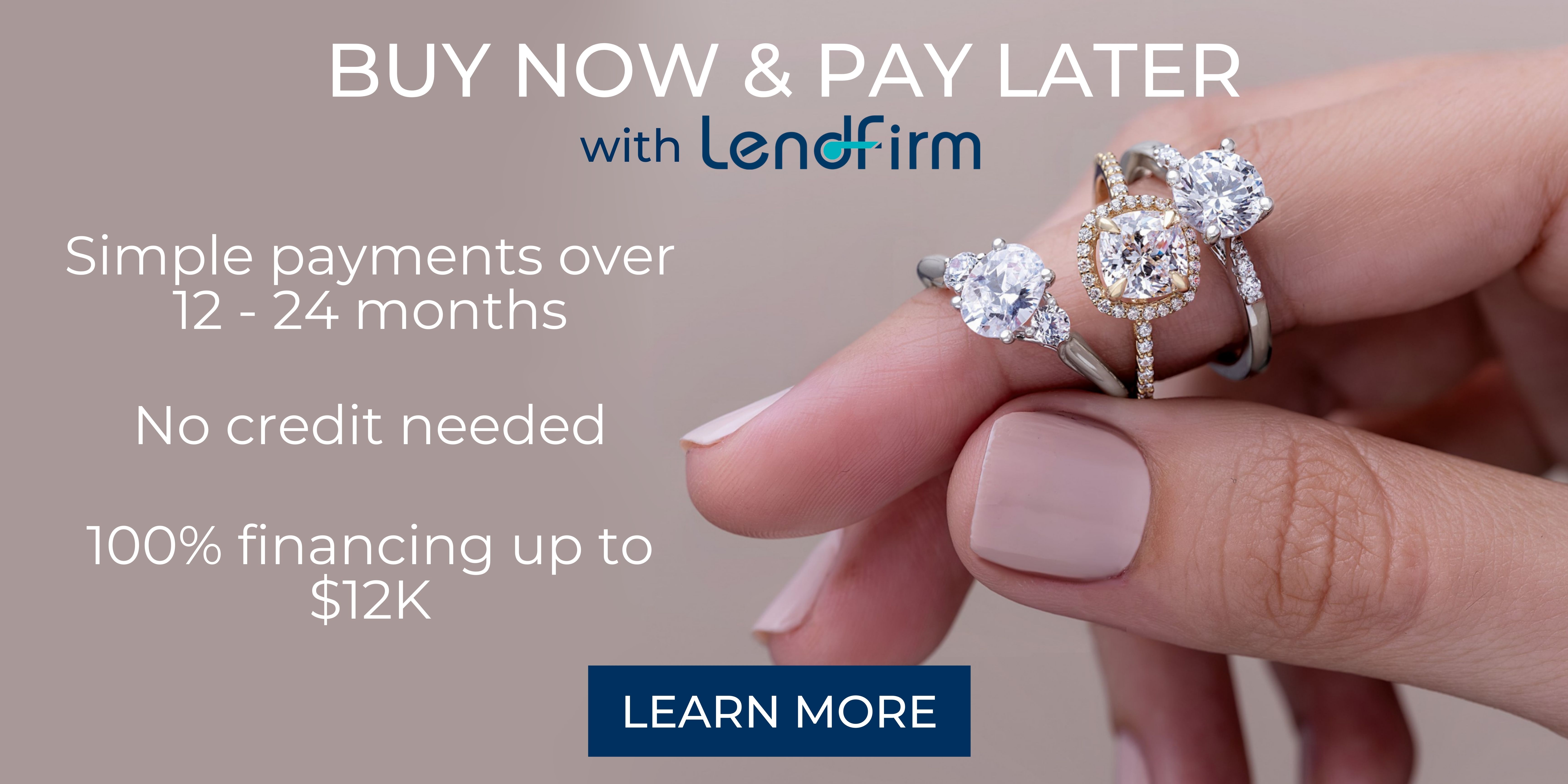 Have a question? We can help!
Gage Diamonds is Chicago's premier jewelry showroom and online retailer of engagement rings, wedding bands, and fine jewelry. We offer a selection of dazzling handpicked diamonds, including certified natural and lab grown diamonds.
We're committed to helping you find the ring of your dreams. For inspiration, browse our website or set up an appointment with a member of our trusted staff at our in-person showroom.
We offer no-credit-needed financing – feel free to apply and get your approval within 24 hours!
Pay over time, because love shouldn't wait.