We know the feeling: You found the love of your life and want to give them the biggest, most spectacular engagement ring you can find. But you can't afford the 5-carat diamond they deserve. That's okay! Check out these eight alternative ways to make an engagement ring look bigger and brighter.
1. Halo Settings
Halo rings usually feature a larger center stone surrounded by a ring of smaller diamonds. By choosing this style, you can boost the ring's overall carat weight without significantly increasing the weight and price of the center stone. And who doesn't love an extra layer of diamonds?
2. Cut Before Color and Clarity
If you're looking for a round diamond, pay attention to the stone's cut. This determines how the stone's angles and facets reflect light, making the ring bright and sparkly. The Gemological Institute of America grades diamond cuts as excellent, very good, good, fair and poor. To make the diamond look larger, choose a better cut, so it can reflect more light!
3. Cluster Rings
Here's a simple trick: When tiny stones are placed close together, they look like one large center stone from a distance. Keep an eye out for rings with clusters of diamonds or other gemstones when ring shopping!
4. Metal Choice
Don't forget about the ring band! A shiny white metal, such as platinum or white gold, is less distracting from the center stone. It therefore appears larger to the average eye!
5. Three-Stone Settings
You guessed it. This ring style highlights three stones, each one representing the past, present and future of your relationship. The key is having smaller side stones to emphasize the center diamond.
6. Keep It Clean
No one likes a dull diamond, so make sure to keep your ring as clean as possible. The more it sparkles, the bigger it looks! We recommend having your ring professionally checked and cleaned every six months.
7. Fancy Shapes
A round diamond might be the most classic engagement ring choice, but it can also be the most expensive per carat weight. Instead, try elongated shapes, such as oval, emerald, pear or marquise diamonds/gemstones. These styles will take up plenty of room on your love's finger and look larger than their actual carat weight.
*Pro Tip: On marquise and pear-shaped diamonds, look closely at the stones' wings, the sides near the pointed edges. If the wings are too flat, the stone will appear too narrow. If they're too rounded, the diamond will appear short and stubby — not ideal for boosting size.
8. Bonus Tip
Want an even larger diamond without the hefty cost? Choose a lab-grown diamond or moissanite! Lab-grown diamonds typically cost 30-40% less than natural diamonds, while moissanites often cost 70% less than natural diamonds.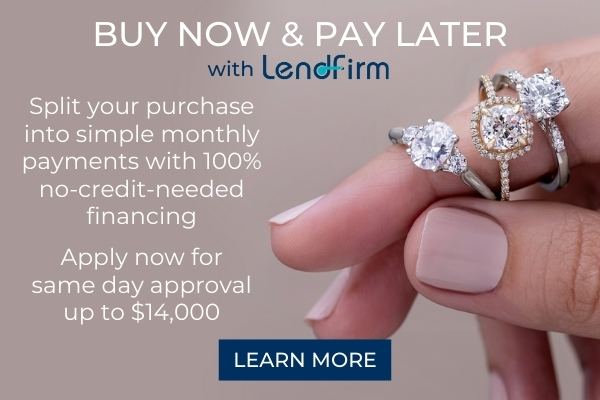 Have a question? We can help!
Gage Diamonds is Chicago's premier jewelry showroom and online retailer of engagement rings, wedding bands, and fine jewelry. We offer a selection of dazzling natural diamonds, lab-grown diamonds and moissanites in a variety of shapes, including round, oval, emerald, pear and marquise.
We're committed to helping you find the ring of your dreams. For inspiration, browse our website or set up an appointment with a member of our trusted staff at our in-person showroom.
We offer no-credit-needed financing – feel free to apply and get your approval within 24 hours!
Pay over time, because love shouldn't wait.