Congratulations! You just took a big leap and started hunting for an engagement ring. But are you getting confused between the ring shank and shoulder? Or the head and halo? Don't worry! We're here to walk you through the different parts of a ring, so you can make the perfect purchase for an unforgettable proposal.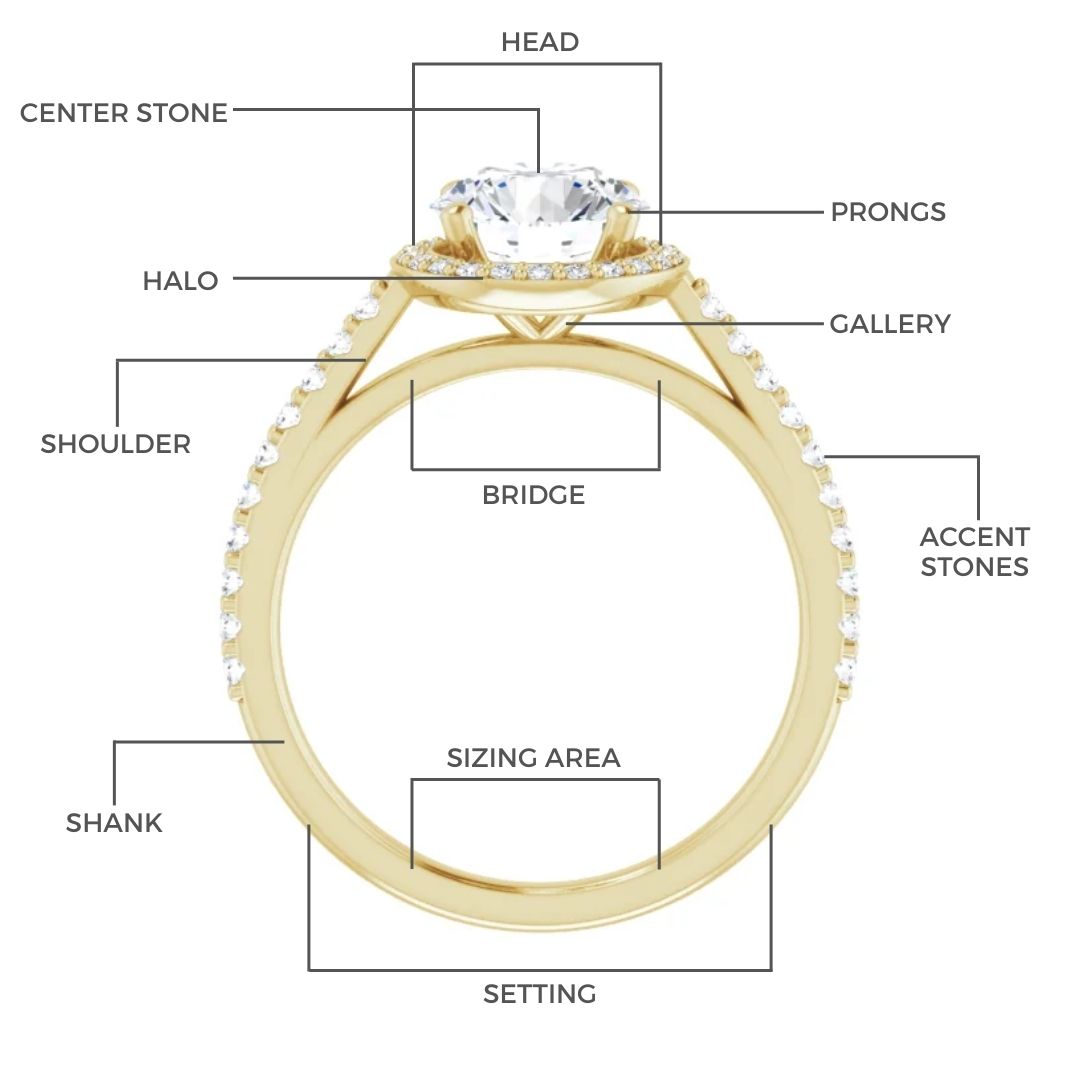 Center Stone: This diamond/gemstone is the focal point of an engagement ring. It's also usually the largest stone in a multi-stone ring. Round cut gems are the most common choice for center stones, but other shapes are also becoming popular, such as oval, emerald, pear and cushion-shaped stones.
Side and Accent Stones (optional): These are smaller diamonds/gemstones that are found on either side of the center stone. Some rings feature side stones in a variety of shapes, and they're often strategically placed to make the center stone appear larger. In other rings, accent stones cover the entire band, just like you see in eternity bands.
Setting: This term refers to the way that diamonds/gems are positioned in the ring band. Essentially, a setting is everything except the center stone. Different types of engagement ring settings are available — including solitaire, halo and three-stone settings — and each highlights the center stone in a unique way.
Head: This part of the engagement ring holds the center stone in place. That means the head typically includes the center stone, prongs and gallery, which we'll explain shortly. Keep in mind that several head styles are also available. Some feature prongs while others use metal to surround the stone.
Halo (optional): If you can picture a halo of diamonds, you're already halfway to understanding this kind of halo! It's a circle of smaller diamonds/gemstones that borders a larger center stone in an engagement ring, making the center stone look bigger. Round cut gems are often chosen for their perfect symmetry, but this design works well with many diamond shapes, including oval, pear and princess cuts. Engagement rings can even be designed with multiple halos!
Prongs: These are the little metal tips that secure a diamond/gemstone, and they have different shapes, depending on the type of prong. For example, claw-like prongs have pointed ends, while beaded prongs are round. You'll often see prongs in solitaire rings, as these metal tips allow the greatest amount of light to enter the diamond from all angles. Three to six prongs are ideal for keeping a single stone in place.
Gallery: This term refers to the area of an engagement ring that's just below the center stone. You'll sometimes find additional detailing here, like hidden diamonds and intricate metalwork. The added design and framework supports the stone and provides more comfort for your finger.
Bridge: This part of the ring can be found between the bottom of the head and the top of your finger. It provides support for the head and also serves as a space for additional stones and designs.
Shoulder: If the head is the highest point on a ring, think of the shoulder as the part that connects the head with the ring band. You should specifically look at the slanted sides that usually extend a little higher than the rest of the band. A ring's shoulders are often decorated with extra accent/smaller diamonds for an added layer of beauty.
Shank: This is simply another term for the engagement ring band (aka the part that wraps around your finger! Shanks are usually made of solid metal, but some are lined with diamonds/gemstones, creating eternity rings.
Sizing Area: Need to resize your ring because it doesn't properly fit? This term refers to the bottom section of the ring band where metal can be cut and removed/added to adjust the size!
Hallmarks: These are little symbols that you might see on the inside of your engagement ring, and they indicate the quality of the precious metal. The markings typically provide information about the manufacturer, type of metal, where the metal was tested and the year the piece was stamped. Hallmarks will look a bit different, depending on where your ring was crafted. For example, the United Kingdom uses several symbols, while other countries use just one.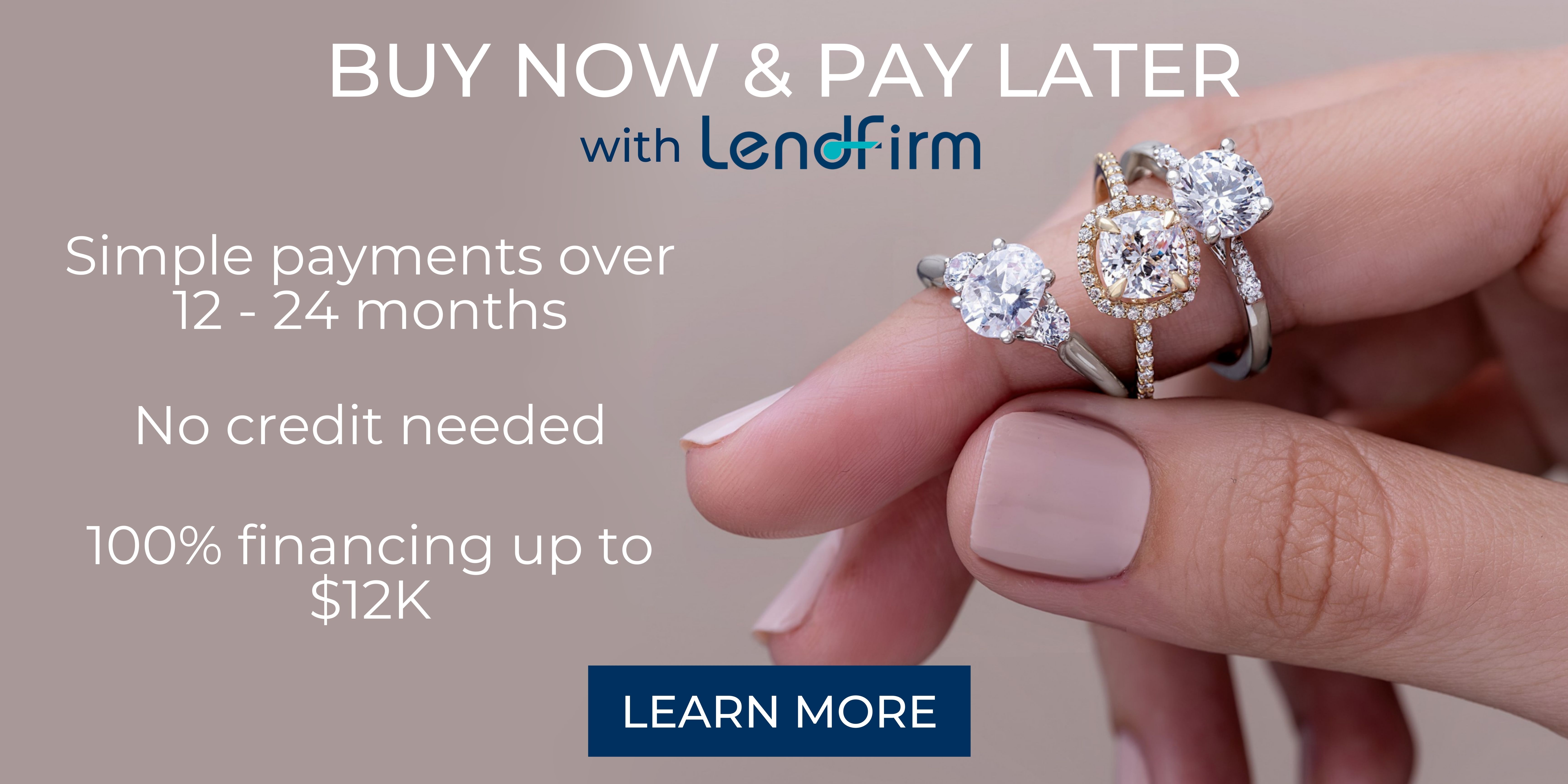 Have a question? We can help!
Gage Diamonds is Chicago's premier jewelry showroom and online retailer of engagement rings, wedding bands, and fine jewelry. We offer a selection of dazzling handpicked diamonds, including certified natural diamonds and lab grown diamonds, moissanites and gemstones.
We're committed to helping you find the ring of your dreams. For inspiration, browse our selection of natural and lab grown diamonds, or set up an appointment with a member of our trusted staff at our in-person showroom.
We offer no-credit-needed financing – feel free to apply and get your approval within 24 hours!
Pay over time, because love shouldn't wait.