Does your special someone deserve the biggest, most beautiful diamond out there? What about two diamonds? Or three? If you said "yes" to all of the above, a three-stone engagement ring is a fantastic option. Plus, this ring can even tell a story about your love journey. Ready to learn more? We're here to tell you all about this meaningful piece!
History and Symbolism
The classic solitaire setting may be the most popular type of engagement ring, but the three-stone ring actually has a long history. This setting – which typically features a larger, center diamond/gemstone and a smaller stone on each side – was reportedly first seen during the 17th century. But popularity soared in the early 2000s, when DeBeers, a corporation specializing in diamond retail and manufacturing, introduced its three-stone diamond ring as an anniversary gift.
Over time, this piece also became a fashionable choice for engagement rings. In fact, a 2021 survey conducted by engagement and diamond advice website Ringspo found that three-stone rings were the third most popular choice among engaged couples.
What's causing this surge? One reason could be the significance of the ring. Each stone is often said to represent the past, present and future of a relationship. Others believe the gems symbolize friendship, love and fidelity or the Holy Trinity. The interpretation is ultimately left to you and your partner!
Three-Stone Ring Styles
If you want flexibility when designing an engagement ring, look no further than a three-stone ring. The possibilities are almost endless. For starters, you can choose different sizes for the three stones. A larger center stone, for example, could represent emphasis on the current stage of your relationship. But three gems of equal size could indicate that you value the entire journey.
You can also switch up stone shapes. Round diamonds are most common for engagement rings, but oval, princess, cushion and emerald-cut gems also work well in three-stone pieces. For example, baguette and triangular-shaped side stones nicely complement emerald and princess-cut center stones. And don't forget about halos – smaller diamonds that outline a larger diamond for extra sparkle!
Want to give your ring a splash of color? You can always add fancy color diamonds or colored gemstones. Think emerald, ruby, aquamarine or any other striking option! You can even use this opportunity to incorporate your partner's birthstone or another meaningful stone.
Lastly, you'll want to think about how to secure your gems. If you choose traditional prongs, your ring is guaranteed to shimmer more, as these metal tips allow the greatest amount of light to enter the stone from all angles. But if your partner has an active lifestyle, a bezel setting, where the stones are completely enclosed in metal, is a wise choice.
*Pro Tip: Picturing a rainbow three-stone ring? Be careful! It's possible to add too much color! Remember, the focus of a three-stone ring is typically the middle stone, so you'll want to choose shades that complement that center beauty. And if you're choosing the same gem for all three stones, you don't have to find side stones with the exact same color grade. Jewelry experts say similar shades should do the trick!
Celebrities with Three-Stone Engagement Rings
Want a sparkler that rivals those in Hollywood? Here's some inspiration!
● Meghan Markle's engagement ring is probably one of the most famous three-stone rings, and it was actually designed by Prince Harry! The gorgeous piece features a substantial cushion-cut diamond that's surrounded by two smaller diamonds from Princess Diana's personal jewelry collection. The arrangement originally rested on a simple yellow gold band, but it has since been upgraded to a micro-pave diamond-studded band.
● Actor Ben Affleck and singer Jennifer Lopez gave love and three-stone rings a second shot! In 2002, Affleck first proposed with a rare 6.1-carat pink diamond that was surrounded by smaller baguette diamonds. This time, he also chose a three-stone ring – an 8.5-carat natural green diamond with a pair of trapezoid-shaped colorless diamonds.
● Singer Gwen Stefani was no longer "just a girl" after fellow singer Blake Shelton popped the question in 2020 with a three-stone ring. The piece boasts an impressive, emerald-cut center stone with two smaller trapezoid diamonds and reportedly weighs between 6 and 9 carats.
● Singer Demi Lovato also sported a three-stone ring with an emerald-cut center stone during her brief engagement to actor Max Ehrich. The stunning gem was surrounded by trapezoid-shaped side stones, and experts estimated that it weighed more than 5 carats.
● NFL quarterback Tom Brady knows a thing or two about rings – and not just Super Bowl rings! When he proposed to fashion model Gisele Bündchen in 2009, he did so with a beautiful three-stone ring that features an estimated 4-carat, cushion-cut center stone and tapered baguette diamonds.
● Remember when rapper Offset proposed to fellow rapper Cardi B on stage during a 2017 concert? The magnificent 8-carat, pear-shaped diamond and double diamond halo is the focus of this ring, but smaller diamonds also surround the mammoth gem, making it a three-stone ring!
● In 2010, singer Jessica Simpson happily accepted a three-stone engagement ring from former football player Eric Johnson. Two pear-shaped diamonds perfectly frame the striking center stone: a 5-carat ruby.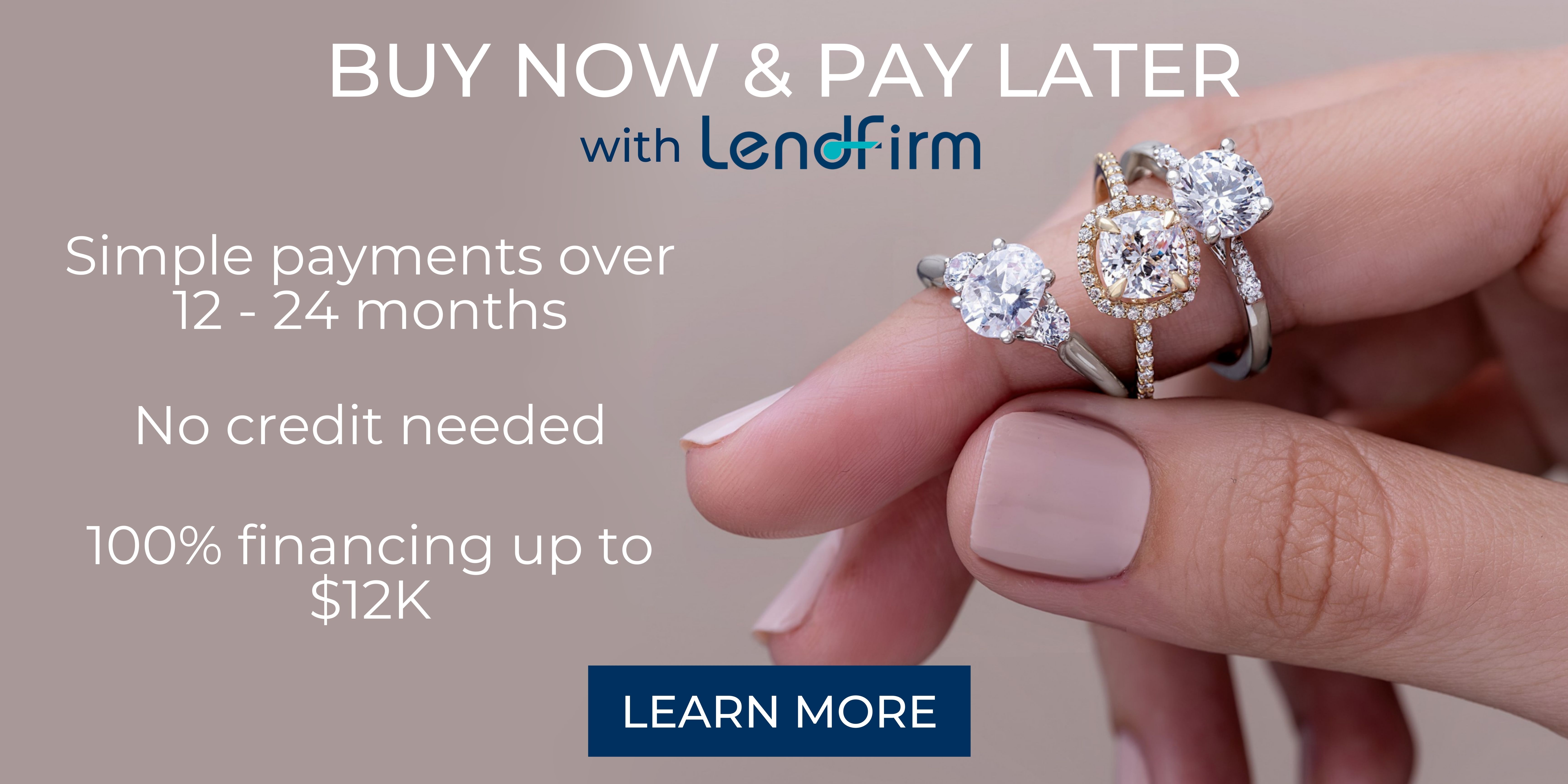 Have a question? We can help!
Gage Diamonds is Chicago's premier jewelry showroom and online retailer of engagement rings, wedding bands, and fine jewelry. We offer a selection of dazzling handpicked diamonds and a variety of three-stone engagement rings.
We're committed to helping you find the ring of your dreams. For inspiration, browse our website or set up an appointment with a member of our trusted staff at our in-person showroom.
We offer no-credit-needed financing – feel free to apply and get your approval within 24 hours!
Pay over time, because love shouldn't wait.