Life seems pretty much perfect. You found an amazing diamond engagement ring for your equally amazing partner, and they happily said "yes" when you popped the question. But guess what? That special diamond is now chipped!
Does this mean you need to buy an entirely new ring? Only if you feel like making a significant investment again. We've seen plenty of chipped diamonds before and have some tips that will make your ring look like new. So, keep your chin up and read on. Gage Diamonds is here to help!
How Does a Diamond Chip?
By now, you might know that diamonds are the most durable gemstone. They score a perfect 10 on the Mohs Hardness Scale, which ranks the durability of diamonds, gemstones and other minerals. They're also known to be the most scratch-resistant material in the world.
So, how could a chip possibly happen?! Just because diamonds are extremely durable and scratch-resistant doesn't mean they're completely indestructible. One hard knock on a countertop or similar hard surface could cause your diamond to chip, especially if it has exposed, pointed corners.
While your partner might be tempted to leave the gem alone and simply continue wearing it, that's NOT a good idea! The chip could eventually turn into a bigger crack, making it more difficult to repair.
How to Fix Your Chipped Diamond
You should ultimately take your diamond to a trusted jeweler to discuss possibilities. And you'll want to consider a few different factors, including quality of the diamond, size of the chip and any sentimental value attached to the stone. Here are some options to get you started.
● Get It Recut: Depending on the carat weight of your diamond, a jeweler could remove the chipped section and reshape the gem for you. However, this means you might be left with a lighter stone that's therefore less valuable. It's also worth noting that smaller diamonds, such as those weighing less than 0.25 carats, might not be able to be recut.
*Pro Tip: If you choose this route, make sure there are no visible lines or other signs of a repair. Your stone should shine as brightly as it did when you first bought it!
● Trade It In: See if you can swap your current diamond for a similar-looking gem. But now that your stone has a chip/imperfection, you'll probably get a less valuable stone in return. Are you willing to pay a little extra? Shoot for a bigger and brighter diamond!
*Pro Tip: If your jeweler doesn't have an exchange policy, be prepared to completely replace your diamond.
●Do Some Redesigning: With a solitaire ring setting, a jeweler could likely rotate your gem, so a metal prong can disguise that annoying chip. You might also consider adding some design elements, like extra prongs, or switching to a more secure setting to keep your stone in place. Ask your jeweler what's possible.
*Pro Tip: Hiding a chip beneath a prong sounds simple, but the diamond's structure is still vulnerable. If the same area gets hit again, you could start to see more damage.
●Repurpose It: What if you can't seem to part with your initial diamond? Save that chipped stone and incorporate it into another piece of jewelry. It will make a great anniversary or birthday gift! Hint: Earrings and pendants experience less daily wear and tear than rings.
Ways to Protect Your Diamond
Want to prevent future chips? Keep these tips in mind!
● Opt for Smooth Edges: Some fancy cut diamonds, like princess and marquise cuts, offer a unique, modern look. But they're more susceptible to damage due to their pointed corners. To minimize risk, choose a round or oval stone. You can't go wrong with these traditional, yet trendy, shapes!
● Steer Clear of Thin Girdles: This part of a diamond may often be overlooked, but it plays an important role in a gem's strength. The girdle is a thin border that divides the top part of the diamond from the V-shaped, bottom portion. Girdles actually have various thicknesses, and extremely thin ones are more likely to chip and break. Jewelry experts therefore recommend picking stones with medium girdles.
● Consider Their Lifestyle: Does your partner play sports or work with their hands? If so, a solitaire/prong setting, where the diamond sits high above the finger, might not be an ideal choice. Instead, you should think about a bezel setting, where metal completely encloses the gem. Only the upper portion of the diamond is visible, making this a stronger, more protective option.
● Insure It: Regardless of your design choices, it's a good idea to insure your ring, especially if you want it to last forever. When applying for insurance, find out whether your policy covers chips, scratches and replacement stones. You can learn more about the insurance process here.
● Take It Off: It's okay to remove the ring from time to time and place it in a safe location. It doesn't mean your partner loves you any less!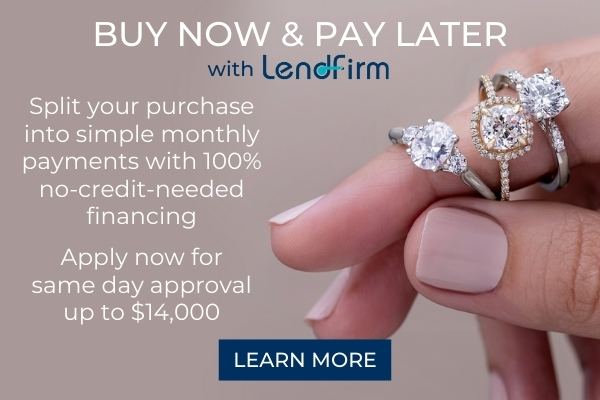 Have a question? We can help!
Gage Diamonds is Chicago's premier jewelry showroom and online retailer of engagement rings, wedding bands, and fine jewelry. We offer a selection of dazzling handpicked diamonds, including certified natural and lab grown diamonds.
We're committed to helping you find the ring of your dreams. For inspiration, browse our selection of natural and lab grown diamonds, or set up an appointment with a member of our trusted staff at our in-person showroom.
We offer no-credit-needed financing – feel free to apply and get your approval within 24 hours!
Pay over time, because love shouldn't wait.