Are you feeling overwhelmed as you search for the perfect engagement ring? Some pieces cost $1,000 while others cost $4,000! How can you possibly set a budget? Don't worry! We're here to help you understand pricing, so you can choose a ring that's beautiful and reasonable for your wallet.
How Much Should You Spend on an Engagement Ring?
We get it. Engagement rings are a big deal. In fact, The Knot's 2021 Jewelry & Engagement Study found that couples spent roughly $6,000 on sparklers that year. But here's a not-so-secret secret: You don't HAVE to spend that much!
Back in the 1930s, De Beers, a corporation specializing in diamond retail in manufacturing, took a hit during the Great Depression. To boost diamond sales, De Beers developed an advertising tactic, convincing shoppers to spend one to three months of their salary on engagement rings. Instead, you can choose an amount that's doable for you!
How to Set a Budget for an Engagement Ring
So, how do you determine an ideal price? First, you should take a hard look at your finances. Compare your income with your regular expenses, so you know how much you can save each month. Don't forget to include things like credit card, cell phone and car payments, if applicable!
Now, you should consider your partner's taste and lifestyle. Do they like classic and simple jewelry? Flashy and glamorous? This will impact the ultimate look of your ring. Plus, certain design elements cost more than others, and we're going to break it all down for you.
Ring Design Tips
Diamond Shape
Price will vary depending on the shape of your diamond. For example, shapes will be more expensive if a large percentage of the original stone is removed during the cutting process. Customer demand also drives up cost. Traditional round diamonds remain the top choice among engaged couples, with more than 40% of pairs choosing this shape in 2021. So, round diamonds will cost more per carat simply because they're popular.
Here are some rough costs for each shape, according to the International Gem Society. These diamonds weigh one carat and have been given an "excellent" cut grading as well as a "near colorless" rating.
Round: $7,300
Pear: $5,800
Marquise: $5,600
Oval: $5,400
Princess: $4,800
Emerald: $4,500
Cushion: $4,200
Asscher: $4,100
Carat Weight
Diamond prices also jump as carat weight increases. Therefore, a smaller diamond will likely be more affordable. One carat is the most popular gem size for engagement rings, but we included a couple of other options for reference.
*Note: All of the below prices were gathered from Gage Diamonds' collection. These figures represent individual round diamonds and do not include ring settings (aka the way that diamonds are positioned in the ring band).
0.50 ct. natural diamond: $1,957
1.00 ct. natural diamond: $4,811 - $6,872
1.52 ct. natural diamond: $10,375
In case you didn't already know, you can also choose several other gems as center stones. For example, lab grown diamonds have the same look, durability and sparkle as natural diamonds. They're simply created in a laboratory and cost less than their natural counterparts! And moissanite, a diamond alternative, has been growing in popularity. This stone is even more affordable and shows off more colored sparkle!
0.50 ct. lab grown diamond: $805 - $1,180
1.00 ct. lab grown diamond: $3,350 - $3,998
1.50 ct. lab grown diamond: $4,318 - $6,425
0.50 ct. moissanite: $330
1.00 ct. moissanite: $490 - $705
1.50 ct. moissanite: $790 - $1,260
*Pro Tip: To save a few extra bucks, you can select "off-size diamonds," stones that have slightly different weights than standard options. For example, a 0.95 ct. diamond will be cheaper and look just as stunning as a 1.00 ct. gem. Only experts will be able to tell the difference! And if you're considering a smaller diamond, don't worry about cutting corners on size! With additional diamonds and different stone shapes, there are several tricks to make your gem look bigger and brighter.
Precious Metals
The ring band is important for a few reasons: look, durability and even price. While shopping, you'll likely come across a variety of metals, such as platinum and different types of gold. Which should you choose?
Platinum boasts a silver-white appearance and is more durable than gold. But since rings feature a high amount of pure platinum, they tend to be more expensive. Yellow gold has traditionally been the most popular gold for engagement rings. It's the most hypoallergenic option, but it's also most likely to show scratches.
If your partner loves the sleek look of platinum, white gold has a similar appearance and is easier on your wallet. It tends to feature a rhodium coating, which makes it more durable and scratch-resistant than yellow gold. Rose gold, on the other hand, is the strongest and most romantic color. It's a combination of pure gold, copper and silver, and it's considered fashionable for both men and women's jewelry. This shade could also be slightly cheaper due to the strong presence of copper, a typically affordable metal.
However, the biggest price difference is a result of the gold's weight. You'll likely see 14-karat and 18-karat gold for engagement rings, and 18-karat gold is almost always more expensive. Here are a couple of featured rings on Gage Diamonds' website. As you'll see in both examples, 18-karat white gold costs $350 more than 14-karat white gold, and platinum costs $650 more than white gold.
*Note: Customers can pick the type, shape and carat weight of the center stone for both of these rings. The below figures show pricing for each piece with a 1.00 ct. round, lab grown diamond.
Thea Infinity Preset Engagement Ring
●14K white gold: $4,535
●14K yellow gold: $4,535
●14K rose gold: $4,535
●18K white gold: $4,885
●Platinum: $5,185
Rhea Solitaire Hidden Halo Preset Engagement Ring
●14K white gold: $4,845
●14K yellow gold: $4,845
●14K rose gold: $4,845
●18K white gold: $5,195
●Platinum: $5,495
*Pro Tip: If you opt for a yellow gold band, you can pair it with a cheaper diamond that displays a touch of color. (Hint: The most valuable and expensive stones are colorless.) It will still appear white and flawless against a yellow gold band.
Should You Insure Your Engagement Ring?
Once you settle on a ring design, you'll need to decide whether to insure your ring and factor in related costs. Engagement ring insurance is essentially a contract that protects you from financial setbacks, in case your rock experiences misfortune, like theft, loss or damage. Similar to other types of insurance, you pay an annual or monthly premium to maintain your coverage.
The cost of your insurance will depend on several factors, such as the value of your piece and theft rates in your community. But jewelry experts say you should expect to pay $1 to $3 for every $100 that your ring is worth. That means a $5,000 ring will roughly cost between $50 and $150 to insure each year. Learn more about insurance here.
Pick a Payment Method
Shoppers have a few different options when it comes to paying for an engagement ring. If you want to keep things simple with cash, make sure you have enough to pay for everything upfront. You could also open a credit card through your jeweler, which typically offers low or 0% interest. This route will likely involve monthly payments and a promotional period. But if your ring isn't fully paid on time, you might have to start paying extra interest. So, you'll want to guarantee that you can cover a payment plan and potential extra interest.
If you shop with Gage Diamonds, we look beyond credit score and offer financing to shoppers with poor or no credit. Our financing partner, LendFirm, is an online lender that works with exclusive merchants, like us. LendFirm offers interest rates as low as 4.95% for 12 or 24 months on all of our pieces, from engagement rings to other fine jewelry.
You simply need to provide us with a valid driver's license or state ID; proof of a direct deposit from your primary employer/benefit provider into a three-month-old checking account; and record of a checking account in good standing. Applications are typically approved in 24 hours with no upfront costs.
Now, you know how to select more affordable ring features and properly plan for engagement ring costs. So, set that budget and start shopping smarter!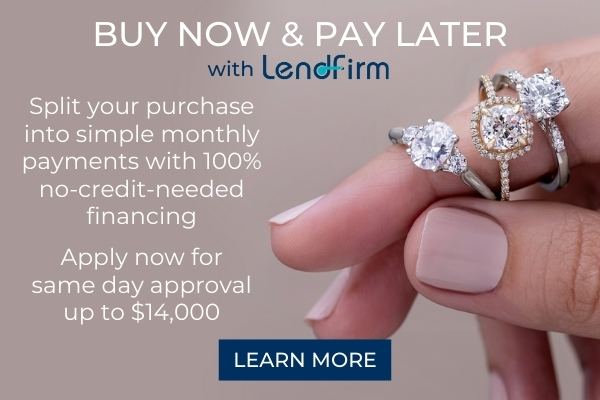 Have a question? We can help!
Gage Diamonds is Chicago's premier jewelry showroom and online retailer of engagement rings, wedding bands, and fine jewelry. We offer a selection of rings featuring dazzling, handpicked diamonds, moissanites and other gemstones.
We're committed to helping you find the ring of your dreams. For inspiration, browse our website or set up an appointment with a member of our trusted staff at our in-person showroom.
We offer no-credit-needed financing – apply and get your approval within 24 hours!
Pay over time, because love shouldn't wait.